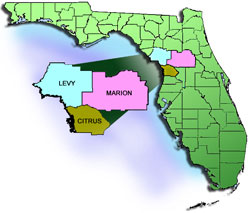 Serving Marion, Citrus, and Levy Counties
Williams Surveying, Inc. was founded in Marion County, Florida, over twenty five years ago. Since then, we have been providing our local area with quality boundary, mortgage, topographic, as-built, and other surveys. We use the latest in measurement and drafting technologies, including state of the art total stations, global positioning systems (GPS), and computer aided drafting (CAD) software.
Accuracy
Technology has improved over the years, allowing us to evolve into an era where high accuracy standards are no longer difficult to attain and no longer require long, arduous hand computations. Our GPS units alone provide horizontal accuracies up to +/- 1 inch measured over 30 miles. Comparatively, Florida minimum standards for surveyors only require rural land corners to measure within an accuracy of +/- 1 foot in one mile.
Quality
To better serve our customers with a thorough understanding of a particular type of survey, Land Surveyors are required by Florida Statute to practice within their area of expertise. Therefore, we specialize in different areas (ie. Boundary, Topographic, Construction Layout, Route Design, Subdivision Design, Photogrammetry, Coastal Mapping, Remote Sensing, etc.).
Service
Williams Surveying, Inc. has provided quality urban and rural, large and small lot boundary location and reconfiguration for over 20 years. We have also recorded several platted subdivisions with the Marion County Clerk of Court and performed topographic and construction layout services for commercial sites.